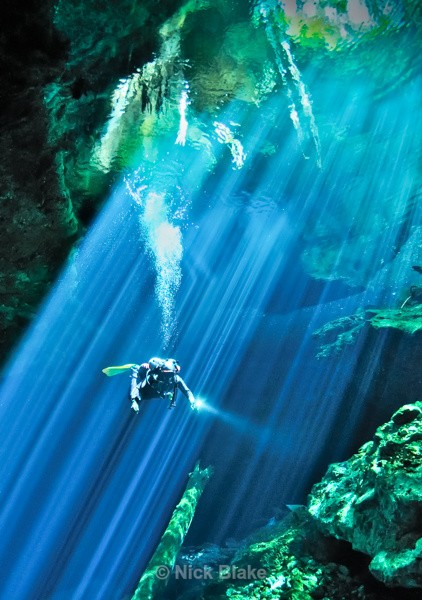 Nikon D300, Tokina 10-17mm, F5.6@1/60sec, ISO 400.

This image was placed Runner Up in the British Society of Underwater Photographers (BSoUP)/Diver Magazine 2011 Print Competition in November 2011 and was also the winning image in BSoUP's "Focus On" monthly competition in July 2011.

The image was taken at Taj Maha Cenote on the Yucatan Peninsular, Mexico in June 2011.
I dived a number of different Cenotes during my trip there, but Taj Maha proved to be the most successful in terms of the shots I took.

From a total of 6 dives at the site, this was my best image. I was fortunate that on this particular dive the sun was shining constantly and hence the light refraction was impressive – I found it quickly disappeared with even the briefest of passing clouds covering the sun, and this happened on several dives.
Diver and Sunbeams, Taj Maha Cenote, Riviera Maya, Mexico.